---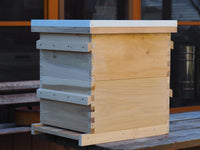 This locally sourced, hand crafted hive comes with everything but the bees!
     THE BOXES & FRAMES ARE ASSEMBLED 
Our EZ handles make lifting heavy and off-balance boxes more manageable.  The extra finger room on the handles allow you to lift more easily than traditional, inlaid handles. 
Included:
Solid Bottom Board
2 Deep 10 Frame Boxes
20 Wood Frames with Foundation
     note: heavy wax Acorn Foundation
1 Inner Cover
1 Telescoping Top
We do not ship this item it is pickup only.