---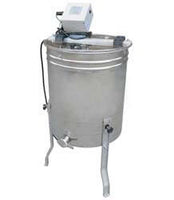 Sale
Is a 4 frame extractor not enough, but you don't quite need a 20 frame? This 500mm motorized radial extractor from Lyson was designed as a sweet spot for hobbyists, handling 12 frames without adding extra bulk.
Frames fit radially so no need to flip them during extraction!
Features
Can extract 12 medium (6-1/4"), or shallow (5-3/8") Langstroth frames (4 deep frames may be extracted tangentially)
Stainless steel drum: 20" diameter X 24" tall
Heavy duty welded stainless steel basket (4 segments, 3 frame per segment)
Hinged clear Plexiglas covers: Watch the whole process!
120V variable speed motor
Stainless steel honey gate
Adjustable height steel legs with bolt holes for attachment to floor
Floor to drum clearance of 13"-17" 
Comes wirh 4 deep frame inserts allow you to extract 4 deep frames tangentially.