---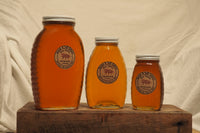 Ohio Honey.  Most is Light Amber clover honey.
Photo of 1/2 pound jar, 1 pound jar and 2 pound jar.  We have other sizes available by the case.  We can leave the labels off for your own custom label.
See selection for case count.

Contact us for bulk case pricing. 
This Product is pickup only!